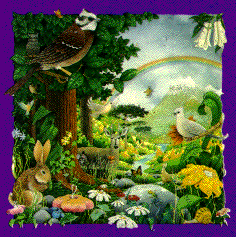 ---


---
Welcome to the WWW Site dedicated to the great multi-instrumentalist Joakin Bello. I hope to maintain/improve this site as often as possible. Please, drop me a line if you know another WWW site related to Joakin Bello. Also, you're very welcome to collaborate with this site by sending any info/articles/material.

If you are interested in the Joakin Bello Music, you should contact the official distributors listed below:


Casilla 16747
Santiago 9, Chile
TEL/FAX (562) 208-4797
Joakin Bello

Cosmoteatro Joakin Bello - Mamalluca


" Un perfecto dialogo entre el espiritu, la musica y el universo."

Here you'll see the extense Joakin Bello Musical production:


---

This album was created by JOAKIN BELLO between 1986 and 1987 while the composer was living in the Andes mountains. It's magical beauty may be attributed to the constant, deep, and crystal-clear dialogue between the artist and Nature's elements and creatures.


In this album, the multi-instrumentalist Joakin Bello plays the following instruments: Violin, Viola, Dilruba, Guitar, Cuatro (four string guitar), Charango, Tamboura, Ocarina, Kena (Andean flute), Zampoña (Andean flute), various percussion instruments, digital and analog synthesizers, samplers amd drum machine.


The presence of Nature in "Beyond the Rainbow" is extremely rich, manifesting itself in a variety of birds (specified under each title), the overwhelming telluric force of the bubbles at the Surire Salt (salt deposits in the chilean high plateau); the dramatic dialogue between a puma and a rough-legged hawk ("Andessenians") as well as in the different sound expressions of water and wind. Also present, is the natural environment of Chungará, third highest lake in the world (at an altitude of 4,500 meters), which is rich and full of life, housing over 200 animal species.


The whole album is impregnated with a deep Spirituality.


In this aspect, the composition "Andessenians" is outstanding for its evocative force. With this suggestive title (created by Joakin Bello from the words "Andes" and "Essensians") the artist reveal to us the presence and spiritual influence of his community of Anchorites through the ages, suggesting to us their current presence in the South American Andes.


The publication in New York of this historical -and by now classic- album in 1988 (Gaia-Polygram) introduced the concept of Total Music, thus opening a new and vast world for musicians from all latitudes. In "Beyond the Rainbow" the artist brilliantly combines the instruments, sound textures, and cultural values of remote pre-columbian as well as European and Asian ancestors. At the same time, in a show of impeccable virtuosity, he incorporates computers and state-of-the-art contemporary electronics to create a full, universal and futurist sound, making us active participants in that heady and characteristic ecstasy of cosmic mysticism.


The underlying philosophical and ecological contents of this unique album, as well as its deep emotional vitality, projects Total Music from its origins into an orbit notoriously beyond what is known as "Light" or "Entertainment" music, placing it in a field that, in time, may become a classical music genre.


---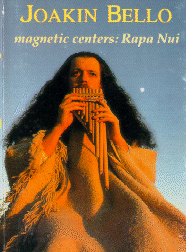 Magnetic Center's series evokes musically the energy of certain places which for millennia have been important for the spiritual development of mankind.



During his pilgrimage through Europe, Asia and America, Joakin Bello, the mystic, became impregnated with their vibrations, and later, Joakin Bello, the artist, burst forth into sound, creating this set of compositions which will certainly be specially understood and cherished by those initiates on the path of Self-Realization.



The compositions included in this album were written between 1986 and 1987. Here, the multi-intrumentalist Joakin Bello plays the following instruments: viola, dilruba, keyboards (synthesizers, samplers), hindu cane flute, zampoña (Andean pan flute), trutruka (wind instrument used by the Mapuche Indians), charango, guitar, tiple and percussion.



Nature shows itself through different sound expressions of the water element in "Badrinath" and "Santiago de Compostela". Upon arrival by rowboat to the island of Rapa Nui, we enjoy the warbling of local birds such as seagulls, chimangos, partridges, and finches, as well as the characteristic sound of crickets.



Each place's specific telluric energy determines a marked contrast between each composition, making this album an interesting example of Total Music, clearly differentiating the strong ethnic content of "Rapa Nui", from the mystic-cosmic nature of "Saq'saihuaman" and "Badrinath" as well as the mystical- emotive content of "Santiago de Compostela" and "Tiwanaku".



It is worthwhile to point out the use of stones as percussion instruments by natives of Rapa Nui. As they recite kneeling on the ground, carrying good sized stones in both hands, they strike these stones against others that lie on the ground so as to accent the rhythm that will help to make the flow of ancestral memories more fluid.



The communal chants and recitatives make up rituals that are of capital importance in the effort of this people-civilization to maintain their history and tradition alive, were completely recorded in Rapa Nui and they belong to the cultural heritage of this peculiar island located in the South Pacific.


---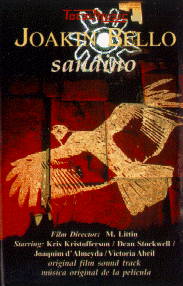 Due to several reasons, one being time limitations, the music selected or composed for a film cannot always be completely included as part of the original sound track. In this sense, Sandino has not been an exception.


Total Music wants to offer the public Sandino's original sound track, which includes the music already published and selected by the film director, as well as the pieces specially created for the film.


The Hispano-American public will find in Adelita I and 11 a reminiscence of the popular mexican song which Sandino's followers adopted like an unotficial hymn.


Except for the Californian oboist Gary Herbig and the orchestra that performs "Offering", all the instruments in the album are played by Joakin Bello. Among these instruments are the violin, viola, piano. keyboards (synthesizers and samplers). zam- poiia, ocarina, bamboo flute, guitar, charango. tiple, bombo leguero and drums.



---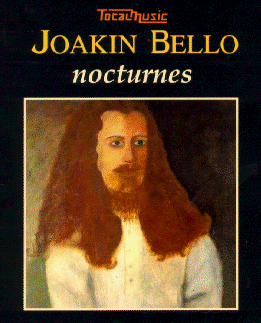 These nocturnes were inspired by the diaphanous skies of my Valley of Elqui in ecstatic contemplations of the heavens. At the moment when our consciousness and the Universe seem to become one, vibrations resound and past and future reminiscent adventures appear. A galactic epic and intimate stellar loves embrace where time vanishes ...


This 'music' may be regarded as strange and imcomprehensible by many people. but there will be a few who will find llere familiar and evocative sound codes. I would like to ask the former ones to be a little patient and to let themselves go as they listen to the Nocturnes. I am offering a sound bridge that will help you abandon that earthly provincialism, which together with the great collective hypnosis produced by materialism. keep the spirits captive in narrow tridimensional cells... To the second ones, I send all my fraternal love!


The completion of this album took four years (1992-1995). All of the sounds on this recording were created by synthesis on only one instrument: a sole svnthesizer.


Being myself in charge of every musical and technical step, from the first inspiration to the final masterising, helped me to meet the required coherence as well as rigorous and consistent sound treatment and control in the different productive stages. Sound texture and timbre are leading features in these noctunnes. Therefore, having a computerized digital laboratory available for their processing was very helpful. In fact, some sounds have reached the limit marked by today's technology (specially in regard to loudspeakers). Even in some instances they have gone beyond the threshold where harmonics (overtones) break.


Joakin Bello
Elqui Valley, Winter 1995


---
Spanish Text - Texto en Español
Compositor, multi-instrumentista e investigador étnico. Inicia su formación musical en el CONSERVATORIO NACIONAL de la UNIVERSIDAD DE CHILE, donde completa cursos de Teoría, Armonía, Violín, Piano Complementario y Música de Cámara. Posteriormente, continua sus estudios de Interpretación Superior en Violín, con el profesor Jaime de la Jara, en el DEPARTAMENTO DE MUSICA de la UNIVERSIDAD CATOLICA DE CHILE, egresando con la calificación máxima.


En 1972 es becado por el MINISTERIO DE CULTURA de la URSS para realizar estudios de postgrado en el CONSERVATORIO TCHAIKOVSKY de MOSCU, Durante cinco a&ntlde;os es discípulo de los más destacados maestros de polifonía, filosofía, piano, etc., dedicando siempre preferente atención al violín (Prof. Maia Glesarova; Catedra, Yuri Yankelevich) y a la composición (Prof. Konstantin Batashov; Catedra, Aram Kachaturian).


En 1976 es laureado en el PRIMER CONGRESO DE COMPOSITORES de la URSS por su obra "Suite para Violín y Violoncello".


Una vez finalizados sus estudios, regresa a Sudamérica para desempeñarse como Primer Violín de la Orquesta de Cámara "Solistas de Buenos Aires" y Profesor de Violín, en Argentina.


Cumplida esta etapa se traslada a Europa y fija residencia en Madrid. Allí se interesa por el folclor y la canción popular.


En 1982 gana el Concurso DAIC-CHILE, Mención MUSICA DE CAMARA con su "Suite Sudamericana".


En su continua actividad como compositor, crea entre 1982 y 1986, "Ofrenda de los Andes por la Paz". En el mismo período, graba tres albumes de canciones con la participación de Paula Monsalve: "Hijo del Planeta", "Yo Soy" y "Se Feliz".


En 1987 incursiona en la música electro-acústica, combinando la música con los sonidos de la naturaleza. Así crea "Detras del Arcoiris", el primer Compact Disc realizado en Chile. Asi mismo, con su album "Preludios", produce la primera grabación digital del país (Radio Horizonte).


En 1989 se radica en Estados Unidos. Crea su propio sello de grabación TOTAL MUSIC, cuyo nombre interpreta la percepción que el artista tiene de la realidad.


"La MUSICA TOTAL propone un nuevo universo sonoro de síntesis e integración al combinar el eterno curativo canto de la naturaleza con los instrumentos del pasado y del presente y el poder y pureza de la electrónica y la computación, otorgando así, una nueva dimensión a la tradición y abriendo una ventana al futuro".


Su música trasciende las fronteras y es empleada por grupos religiosos, de meditación y crecimiento personal, así como en coreografías, películas, videos étnicos y documentales.


En 1990 publica los albumes "Reminiscencias", "De los Himalayas a los Andes" y "Centros Magnéticos: Rapa Nui".


En 1995 lanza al mercado "Sandino", música del film del mismo nombre, "Ofrenda de los Andes por la Paz", "Nocturnos", "Cantos de Rapa Nui" (recopilacion antológica producida y grabada por el propio compositor en Isla de Pascua) y reeditada en CD, "Hijo del Planeta", "Yo Soy", "Se Feliz" y "Back in Arkansas".


Como concertista ha presentado su musica en los cinco continentes, en escenarios tan diversos como la Catedral de Nueva York, Teatro Colon de Buenos Aires, Universal Amphitheatre de Los Angeles, California; Teatro Nacional Heitor Villa-Lobos de Brasilia y en grandes conciertos al aire libre en Norteamerica, Sudamerica e India.


INSTRUMENTOS

CUERDAS       Violín, Viola, Dilruba, Guitarra, Cuatro, Tiple, Charango, Tambura

TECLADOS      Piano, Organo, Sintetizadores

VIENTOS       Flauta, Quena, Ocarina, Zampona

---
Page created: September 21th 1996
Revised: February 21st 2002
Disclaimer: Any view or statement in this page is not part of an official standpoint of ESO.
---