The precipitable water vapour (PWV) is the crucial parameter that determines the atmospheric transparency for sub-millimetre observations. At the APEX site on Llano de Chajnantor the amount of PWV is typically 1.0 mm and falls below 0.5 mm up to 25% of the time.
---
Weather data
Check here the current weather conditions at the APEX site in Chajnantor: PWV, temperature, humidity, pressure, wind speed. Access also historical data…

---
Atmospheric transmission
To prepare the observations and make time estimates for different atmospheric conditions check our instrument setup tool, based on the ATM model .
You can find here an interface to check only the atmospheric transmission without the instrumental layouts.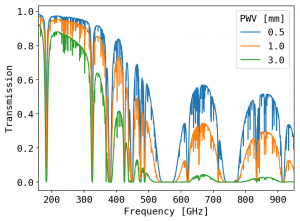 Related links
---
Forecast and satellite imagery
Here there are some links to relevant weather forecasts
And here you find links to some interesting sites with relevant satellite images
---